I have been working on new wire work as well as trying out copper wire in some of my work the last few weeks. I am teaching myself some new techniques and trying to find a way to incorporate them in new pieces. I just received a box full of new tools today and am super excited to get to use them too! I will try to update the new ideas but it is as it always id a waterfall of ideas! I am going to share here some of the new copper pieces and the design on the earrings is by Aniko Sandor. I modified the size from her design to be smaller by 3/4". Her original design was larger and I am always trying for smaller work. Although if you look at some of my pieces they can get super bold! I was trying to tame it down. I tried her design in three different wire silver, copper, and gold filled. I also went and played with some gems I have been collecting. All are teardrop shape, but some are faceted and others smooth. I had fun playing around with the colors of the stones and thinking about the light reflecting through them and how they look with certain wire colors. I am currently working on a original design for three of these earrings to have pendants that can go with them. I will definitely be using the wire weaving technique and some of my own flair this time! I do enjoy pushing myself to try new things and her earrings really spoke to me to try and see what I can do with this new technique.
It is definitely why I have been super excited to be a part of the wiredteam on Etsy. I love seeing all the new ideas and we push each other to do our best and help each other. In January I won the monthly challenge for the theme "Be my Valentine"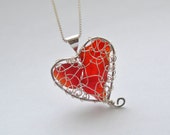 Monica chose my piece and said, "My favorite is Melissa Eager's sea glass pendant. It feels so alive and I can almost hear the heartbeat."